Emery Roller for Rice Whitener Rice Polisher
Emery roller is made by abrasive (main ingredients are black silicon carbide) and resin binder (mainly phenol resin or epoxy resin) under 180 ºC high temperature sintering mixture of porous.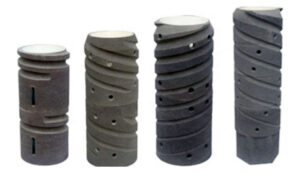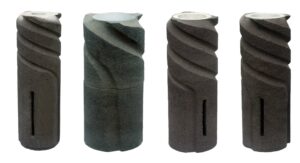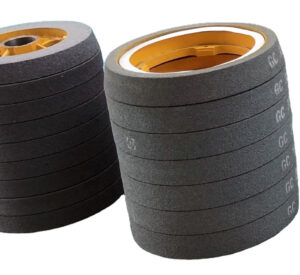 Characteristics:
Emery rollers is a porous mixture sintered by abrasive (main component is black sic) and resin-bonded (mainly phenolic resin or epoxy resin) in high temperature of 180°C.  Because of its low sintering temperature, loose organization structure, grits fall easily, good self-sharpness. It can continuously produce more angular grits, strengthen rice grinding function. Therefore emery roller has following characters:
1, Low broken rice rate;
2, High white rice yield;
3, High efficiency and low power consumption;
4, Especially suitable for processing the poor quality of grain and flour.
Main features:
(1) Its sintering temperature is low, the structure of the organization is loose, and abrasive is easy to fall off, good self-sharpening performance
(2) Can continuously produce more abrasive edges and corners, increasing the grinding of grain cutting effect.
Advantages:
With no damage to low grain of rice, broken rice rate, milled rice rate high, high milling efficiency and low power consumption.
Technical Specification:
| | | | | |
| --- | --- | --- | --- | --- |
| Type  |  Outside dia(mm)  |  Length(mm)/Number   |  Insider dia(mm)   |  Appicable Model |
| ZZL46 | 462 | 497/7 | 246 | SATAKE VTA-10,MNML46 MODEL |
| Type |  Outside dia(mm) |  Length(mm)/Number  |  Insider dia(mm)  |  Appicable Model |
|  BUL25 |  250 |  300/5,6 |  170(OR 169) |  BULHER BSPB ,MILLTEC MODEL |
  Model
NF15A
 NF15/15
MNSTX15 
NF15.2 
 Total Length (mm)
400
 400
400
470
Outside Diameter (mm)
150
 150
150
152
  Intside Diameter (mm)
85
 85
70
 54
 Groove Type
 Spiral Groove; Inclined Straight Groove
Fineness
 24#, 30#, 36#, 46#, 60#
Applicable Model
NF15A
MLNJ-15/15
 MNSTX15
NF15D