Efficient Grain Cleaning. Grading at its best.
TTAS is suitable for cleaning and grading big and small impurities of granular materials. It can be widely used in grain, feed, and food industries. TTAS as the preferred choice of grain processing factories.
Excellent grading and separating efficiency.
Suitable for all kind of grains.
Easy to operate.
High capacity output.
Less repair time.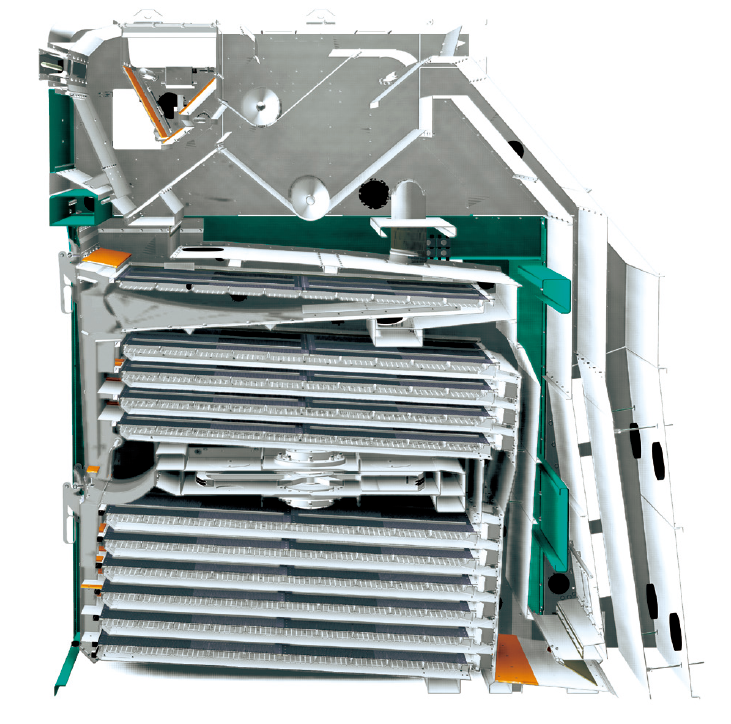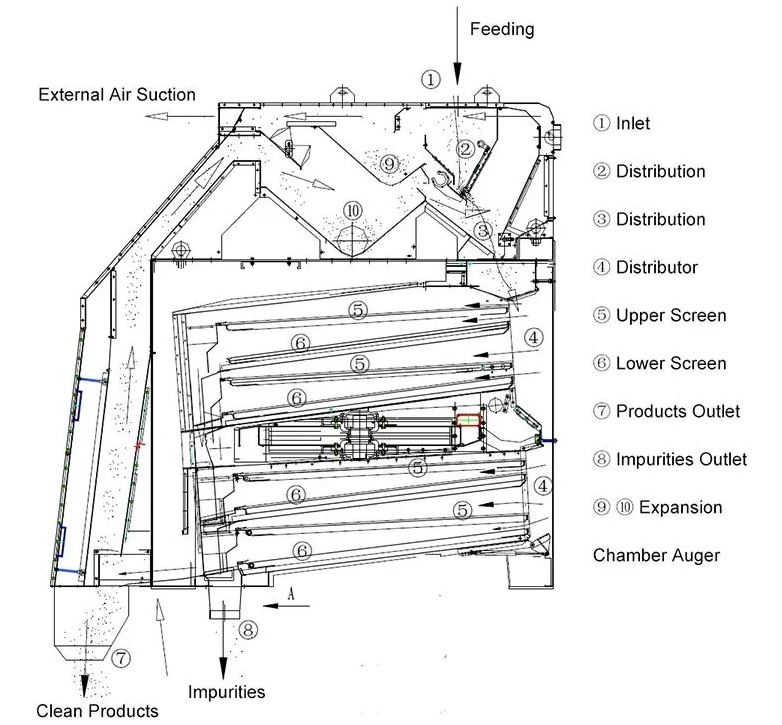 1 Product inlet with vibrating flap: for the uniform and gentle distribution of the product across the entire machine width.
2 Inlet aspiration: removes lightweight particles and dust,which reduces the sieve load and increases the cleaning quality.
3 Sieve flaps: easiest access to all screen layers in no time
4 Preliminary sieve layers: reliable removal of coarse or bigger particles
5 Main sieve layers: precise separation in 1st grade (good product) and 2nd grade (broken, sand, small grain, etc.)
6 Rubber ball sieve cleaning
7 Flywheel and brake motor: drive designed for continuous operation which ensures the gentle circular movement of the sieve box according to the proven plan sifter principle
8 Oscillation monitor: safety equipment that leads to the immediate shutdown of the sieving machine in case of irregular sieve box movement and thus ensures safe operation.
9 Dust-proof rubber cover: for quick and easy maintenance and accessibility to the interior of the machine.
10 Polyamide rods: safe suspension of the sieve box without the transmission of vibrations onto the sieve frame; with special shape for easy installation.
11 Vertical sifter/Outlet aspiration: integrated, easy to adjust and illuminated aspiration channel with large inspection windows for optimal adjustment of the air volume to the product.
12 Separator with discharge screws: discharge of light material from inlet and outlet aspiration to reduce the filter load and to provide a perfect checking point for aspiration settings.
13 Exhaust air connections: guides the dusty air to the connected aspiration system to ensure clean air in the machine
A 1st grade = good product
B 2nd grade (e.g. brokens, sand, small grain etc.)
C Coarse particles
Technical Information